Local Cities We Proudly Serve
Welcome to Longs,
South Carolina​
Learn about the local areas of South Carolina with information on local attractions, news, and more. About Longs, South Carolina
Located in Horry County, Longs, South Carolina is an unincorporated community directly west of North Myrtle Beach. Along with the other suburbs and communities of the Grand Strand, Longs consists of new community developments, golf courses, and local businesses.
What is Longs, SC known for?
Longs was established by the Long family who constructed many public buildings and works, including a Baptist church. The family is tied to the construction and masonry industries. Their corporations, including JD Long Masonry and Long Enterprises, stretch all along the east coast of the United States.
Longs, South Carolina Census Data
98 people per square mile

about the same as the amount in Horry County: $51,570
with 2.6 persons per household
are high school graduates or higher
about 10 percent higher than the figure in South Carolina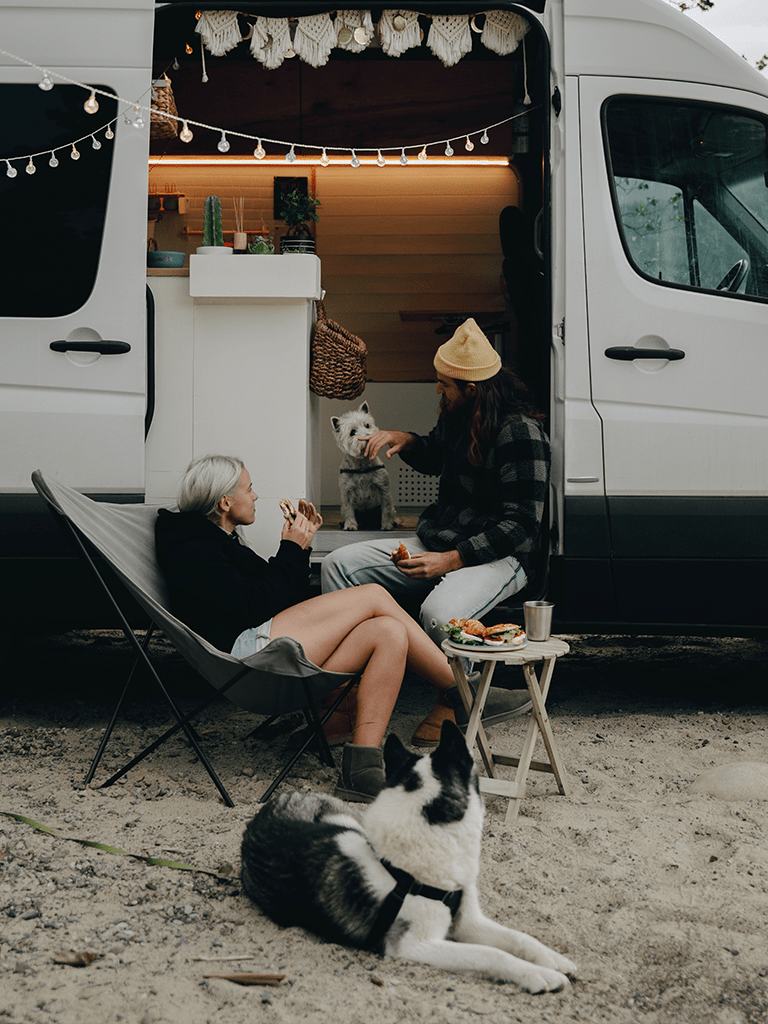 Attractions in Longs, South Carolina
Longs is undergoing significant development, and currently  provides access to a variety of attractions. Its location makes unexpected fun available to everyone.
Beach Goers: Enjoy the sun and surf of Myrtle Beach, located just east of Longs.
Camping: Take your RV out to the lake at WillowTree RV resort, which also includes cottages to rent, a swimming pool, and other amenities.
Wineries: Visit the La Belle Amie Vineyard and Silver Coast Winery to taste the local vintages and enjoy outdoor music.
Adventure: Enjoy any number of sports, trekking, bike trails, and even Quidditch at the North Myrtle Beach Park and Sports Complex.
After a day of exploring, enjoy the surrounding restaurants of Longs, South Carolina.
Steakhouse: Bistro 90
Lunch: Little River Deli
Local Seafood: Sea Man's Seafood
Most accommodations for Longs, South Carolina are located in North Myrtle Beach, just a few miles east.
Longs, South Carolina News
Want to know what's going on in Longs, South Carolina? Local news outlets can provide you with helpful information. Each of the following publications include information on weather, local events, advisories and important updates. Check out these sources and stay in the loop!
Thomas Seashore Drugs Servicing
Longs, South Carolina
Looking for a pharmacy near Longs, South Carolina to remedy any ailment suffered after a long day of fishing or outdoor fun? Thomas Seashore Drugs has been serving the Carolinas for a century. They're your trusted one-stop shop for prescription and over the counter medications, vaccines, medical supplies and more.
Seashore Drugs has served the community of Little River for over a decade. Home to generations of charter and commercial fishermen and shrimpers, our drugstore can recommend tried-and-true remedies and service your pharmaceutical needs.
Just a Few of Our Services & Products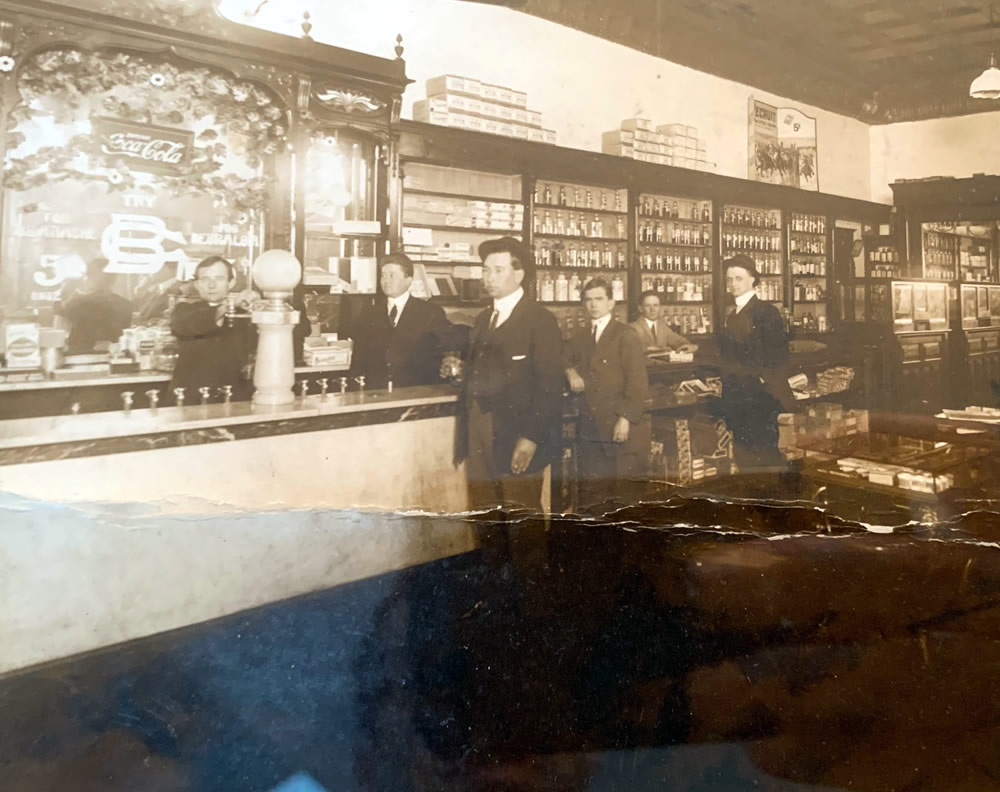 Over a century of pharmacy expertise.
Since 1902, the Thomas family has been offering expert pharmacy services to our Carolina communities. Every generation boasts a family pharmacist, and every generation brings care and compassion to the communities they serve.
The Thomas Drug pharmacies in Brunswick County have been helping locals and tourists navigate their health and vacation needs for over 50 years. For your Longs pharmacy needs, you can visit us at our Little River, North Carolina location, which opened in 2006. Our experience and knowledge have made us a regional leader in patient health, prescription drugs, and pharmacy services.
Our Long, South Carolina Locations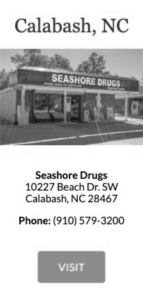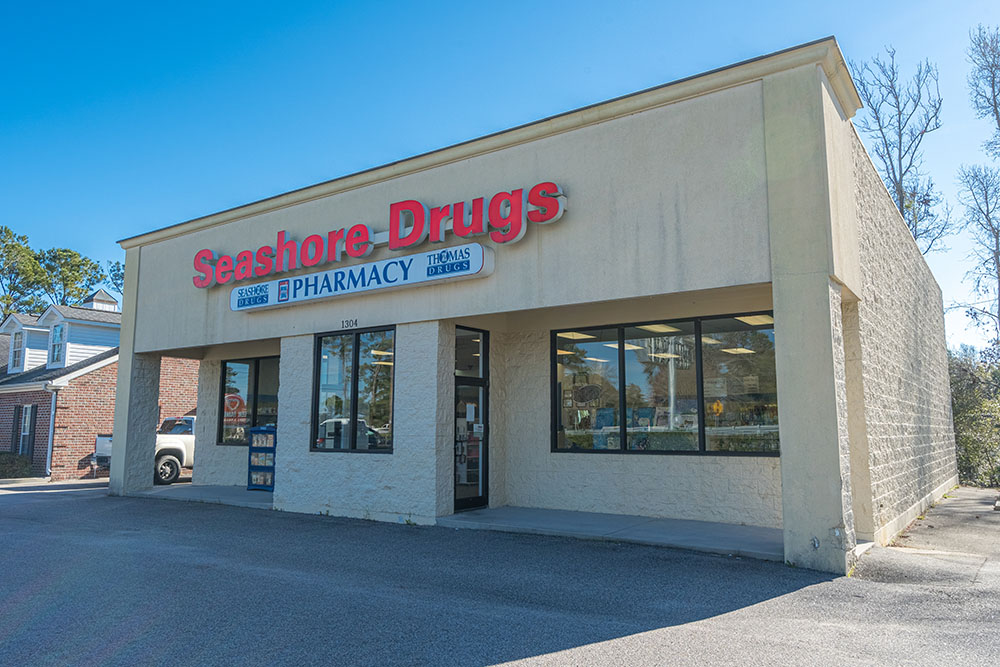 Seashore Drugs
1304 Hwy 17
Little River, SC 29566
Phone: (843) 281-9797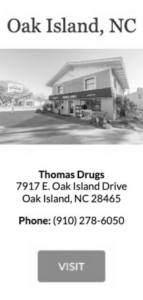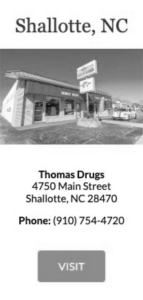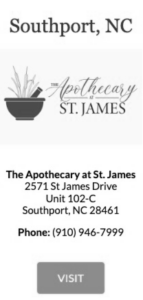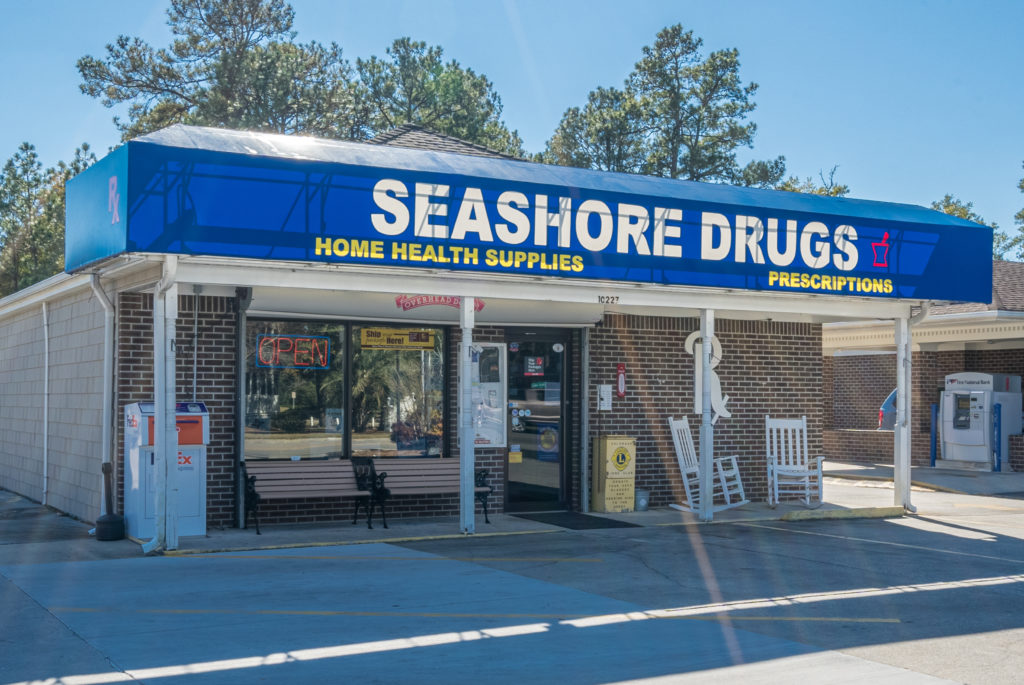 Seashore Drugs
10227 Beach Dr. SW
Calabash, NC 28467
Phone: (910) 579-3200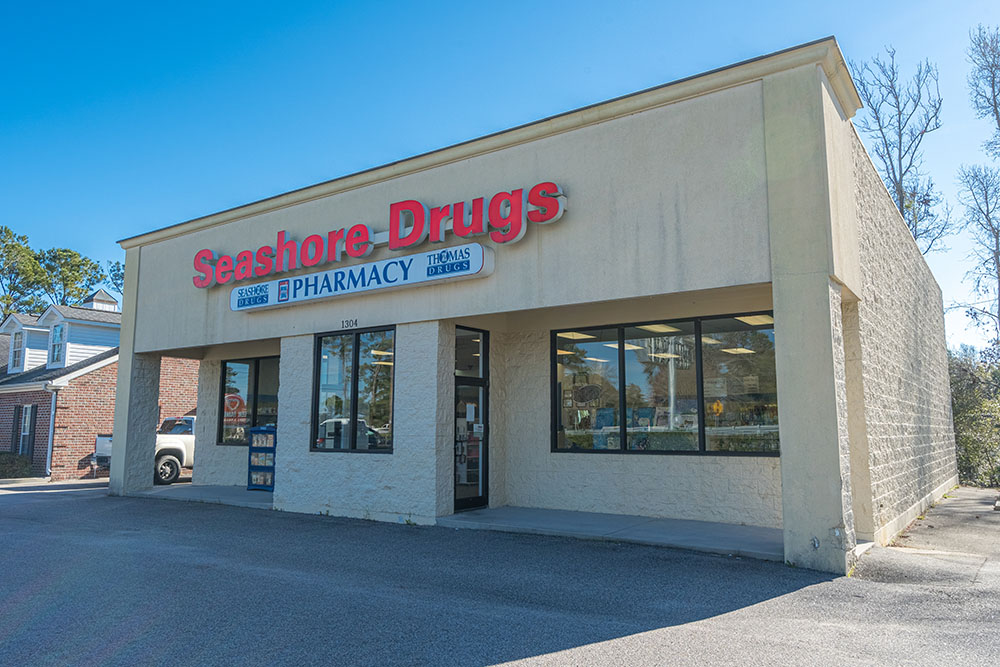 Seashore Drugs
1304 Hwy 17
Little River, SC 29566
Phone: (843) 281-9797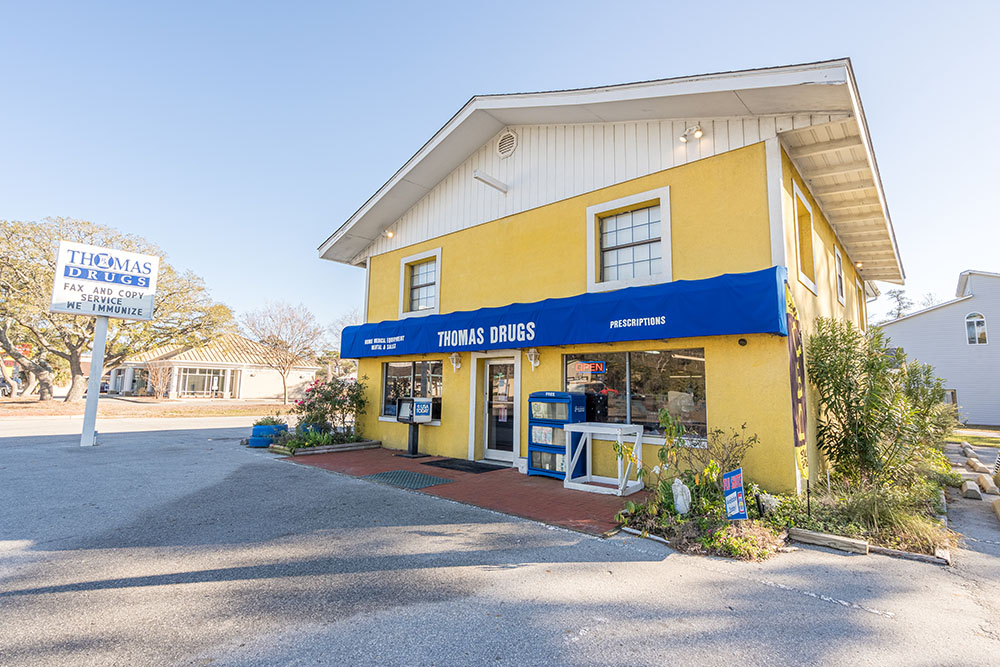 Thomas Drugs
7917 E. Oak Island Drive
Oak Island, NC 28465
Phone: (910) 278-6050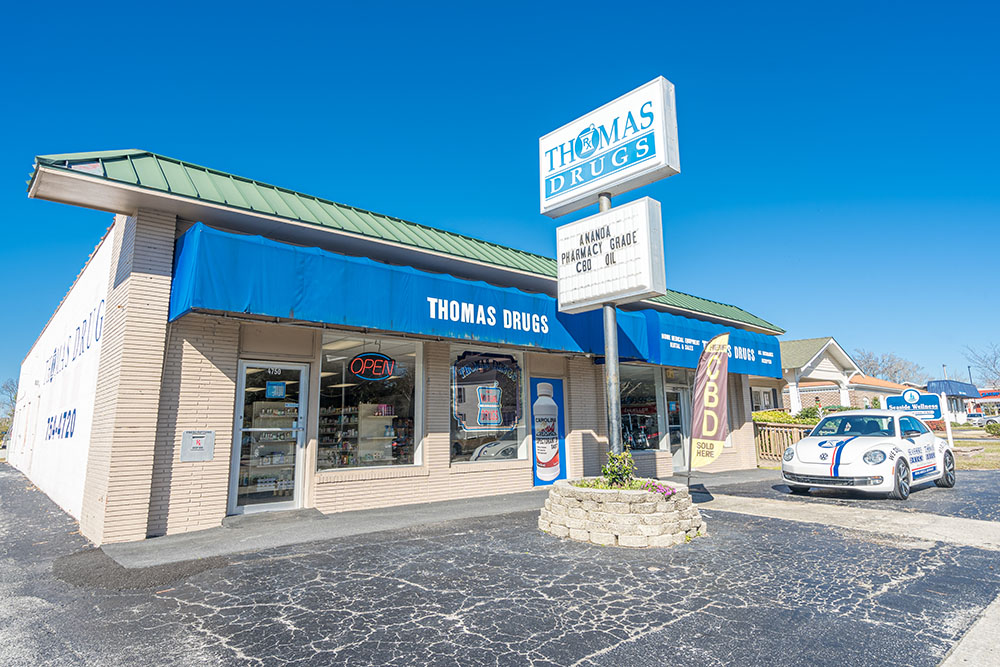 Thomas Drugs
4750 Main Street
Shallotte, NC 28470
Phone: (910) 754-4720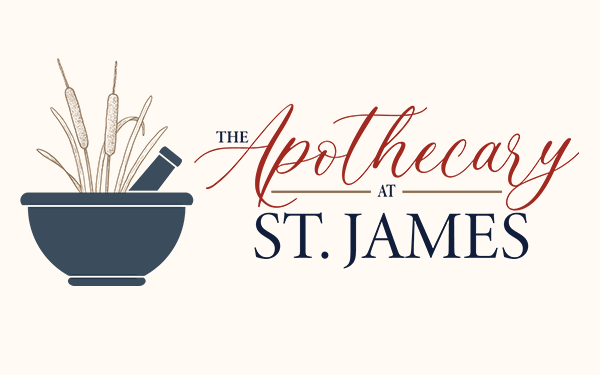 The Apothecary at St. James
2571 St James Drive
Unit 102-C
Southport, NC 28461
Phone: (910) 946-7999